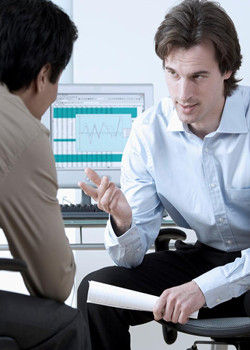 Your Partner in Leadership!
Results Driven Coaching is driven by the core belief that Extraordinary Leaders build Extraordinary Teams that create Extraordinary Results. We empower Purpose-Driven CEOs, Executive Leaders, Sales Professionals, and Organizations to achieve their wildly important goals.
Our Mission
Inspire and equip leaders to discover their voice, lead their teams and achieve their wildly important goals!
Founders Story
After 15 years in mid-management and being the CEO of two high growth training companies, I decided to start my own consultancy. It was cool at first: Working from home, no pressure from a Board, no quarterly numbers to hit…Then reality sunk in: I was alone, without my admin, without a team, and without the environment I needed to succeed. I was miserable, like a fish out of water, and then suddenly, everything changed!
The lunch that changed my life!
During lunch with my financial planner in the fall of 2005, I learned how a coach helped him grow his business 3x in just 5 years….And that he was convinced that coaching was the next big thing in his industry and corporate America.
He explained how coaching was different from Training/Consulting and that he launched a coaching practice to add more value to his clients. He shared that coaching was really about getting to the DNA of a person and helping them align their lives with their strengths, passion and values. In a word, being in "Integrity". He recommended that I read 'The 8th Habit' by Steven Covey to find my personal mission and path….And that we would build my life and business plan on that foundation. After reading the book, doing numerous assessments and coaching sessions, I discovered my life purpose as a Business Coach!
The birth of Results Driven Coaching
During the next two 2-years, I read every book on coaching I could find, took classes and became certified by an ICF training provider (CoachU) and then coached under my financial advisors brand-the Legacy Leadership Forum.
It was awesome, we had several great clients. Many of my colleagues, friends and former clients, immediately saw the value of coaching and wanted to go through the same process I did. I helped 21 people make significant shifts in their personal and business lives, honoring their unique design. What could possibly be better than helping people discover their life purpose and living it with integrity? It was the most exciting and fulfilling work I'd ever done…And then it got better, when I helped a CEO find their path, they asked me to do this with their Executive team.
And then it hit me one day, my life purpose was not really about Me it all. It was about the success of others, defined in terms of how many leaders I could help find and live their purpose with integrity. To the degree I could subordinate my needs, my ego, my goals, my agenda, I could effectively support others. In January of 2017, my vision shifted to build a team of highly gifted coaches, that are driven to help others reach their potential. The RDC process is a documented method to help You and your team find your Voice/Mission > Unleash Your Team's potential > Achieve your wildly important goals.
IS OUR BUSINESS COACHING RIGHT FOR YOU?
Take our quick assessment to learn if we're a good fit.
Consider what the late & great Steven Covey says, "Often times the way we see the problem, is the problem!" I have coached hundreds of managers remotely across dozens of organizations of various sizes since 2007. The shift to remote work didn't change a thing for...